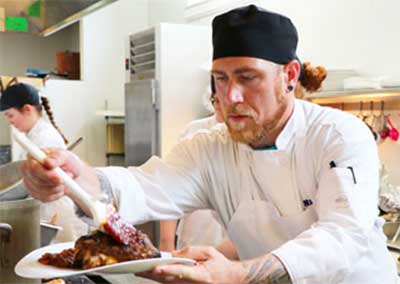 By Keith Kappes
When John Abner lost his factory job after six years, the future looked bleak for him and his family. But then he discovered the Displaced Workers Program and earned an associate degree in culinary arts at Maysville Community and Technical College.
The 33-year-old Bourbon County native says he never lost the dream he had nurtured since childhood of becoming a respected professional cook, perhaps even a college-educated chef.
Today, he is the executive chef at 1487 Brewery, a German-style restaurant and brewhouse expected to open about April 1 in Plain City, Ohio, northwest of Columbus.
"It's still hard to believe that the classwork on campus and the practical experiences I had with Chef Patrick and Chef Ann led me to this great job fresh out of college," Abner says. "MCTC is a place of positive energy that motivated me to achieve a college degree and the career I had dreamed about since childhood."
He said his marketability was enhanced by his catering experiences at the Kentucky Derby Festival, weddings and other social events and the College Café, MCTC's culinary laboratory in downtown Maysville.
"Learning how to improve my cooking techniques from respected, creative chefs gave me an advantage in the marketplace and I'll always be grateful to MCTC's faculty and staff," the new chef stated.
The Abner family, including daughters aged 11 and 3, recently moved to nearby Milford Center after John was invited to come aboard early to help the owners of 1487 Brewery get the establishment ready to open.
"I'm getting more excited each day as we move closer to opening," he said. "The owners have incorporated some of my ideas in the kitchen and I'm anxious to put it all together."
Abner has a cousin in Texas who also is a chef. He says he is anxious to talk shop with him but this time it won't be about some of his previous, temporary experiences as a line cook in a local diner or on a horse farm.
"This is the real thing, I'm happy to say," the new chef concluded.
For information on how MCTC can help you or someone you care about realize their career dreams, go online to maysville.kctcs.edu.