One-Stop Shop For Workforce Solutions
The Kentucky Career Center (KCC) – TENCO …
is a one-stop shop for individuals and businesses needing assistance with workforce solutions. Our Career Centers are available in three locations: Ashland, Maysville, and Morehead; serving 10 counties: Bath, Boyd, Bracken, Fleming, Greenup, Lewis, Mason, Montgomery, Robertson, and Rowan. The Workforce Development Board, operating under the Workforce Innovation and Opportunity Act of 2014, provides oversight for all services provided through the Kentucky Career Centers – TENCO.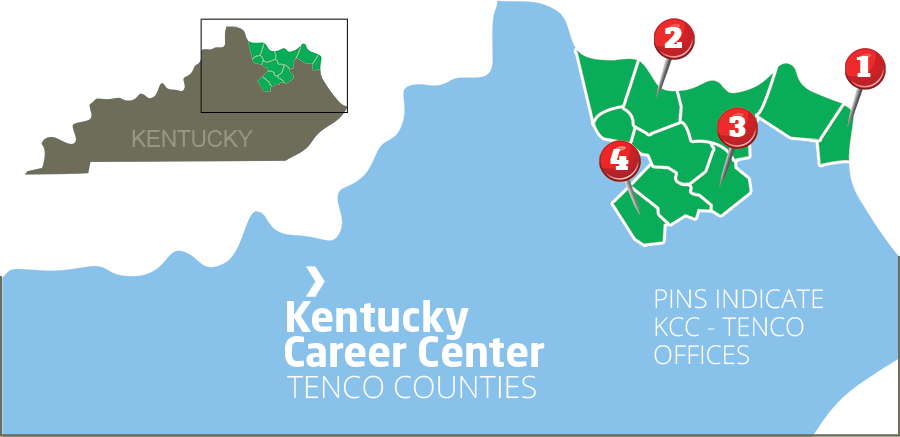 Mission Statement
Our mission is to assist community and industry leaders, as well as economic developers, to facilitate positive solutions for workplace issues, and to improve the economic well-being of the region.
Vision Statement
The TENCO Workforce Investment Board works to create a highly skilled, knowledgeable and creative workforce that attracts new businesses and enhances the success of existing businesses, resulting in additional employment opportunities at competitive wages.
Career Center Leadership
Tonia Prewitt
East Region Program Manager
Career Development Office
tonia.prewitt@ky.gov
Denise Dials
TENCO Workforce Development Board
Workforce Development Director
ddials@btadd.com
Justin Suttles
TENCO Workforce Development Board
Assistant Workforce Development Board
jsuttles@btadd.com