We Help You Find the Right Job
Menu of Services Assist in Your Search …
The Kentucky Career Centers – TENCO provides a large variety of services to assist job seekers in locating the job that is right for them. The Career Center staff has a wealth of knowledge about high demand occupations in our local area, educational requirements to get those jobs, and utilizes resources to help you achieve your goals. Visit the Career Center nearest you for information on the following services:
Labor Market Information
Learn about the "hot" jobs in the area. What types of jobs are available now and in the future? What kind of pay would you make? How much education does it take to get the job? What jobs match your needs?
Assessments
Take our online assessments that can link you to jobs that match your interests. The National Career Readiness Certification is also available at select Career Centers. This assessment is utilized by many businesses to determine the basic employability skills necessary to be successful in their business. Contact a Career Counselor for more information.
Building Your Portfolio
Receive assistance in resume writing, completing applications, interviewing techniques, and marketing your skills. Our TENCO Career Counselors are prepared to assist you with completing applications, writing resumes, and mock interviews.
Basic Skill Remediation
Do you need to brush up on your reading and math in order to get into a training program or complete an employment assessment, or maybe you need to work toward earning your GED? Utilize our Career Centers to connect to Adult Education and Literacy providers.
Career Counseling
Our career counselors have years of experience in helping people find the career that best meets their needs. Career Counselors will work with job seekers individually to determine your best path to meet your career goals.
Training
Funds are available through multiple partners in the Career Centers to assist with training costs, including tuition, books, supplies, and supportive services. Training must be in high-demand, high-wage occupations and eligibility criteria for each agency apply.
On-the-Job-Training and Internships
Is there a business that you really want to work for in the local area? Are you having a hard time getting your foot in the door? Let our Career Counselors assist you with our On-the-Job Training or Internship programs. Eligibility applies.
Job Matching
Match your skills and interests to the jobs available in your local area. Apply or be referred for current jobs through our online services, business connections, and job fairs. Register at https://focuscareer.ky.gov to be matched to jobs current jobs available in the area.
Partner Services
Obtain specialized assistance from the partners at the Career Centers, veteran programs, programs dedicated to serving individuals with disabilities, and utilize our resource area to access job searches and file your unemployment claims.
Job Preparation Services Slideshow
Career EDGE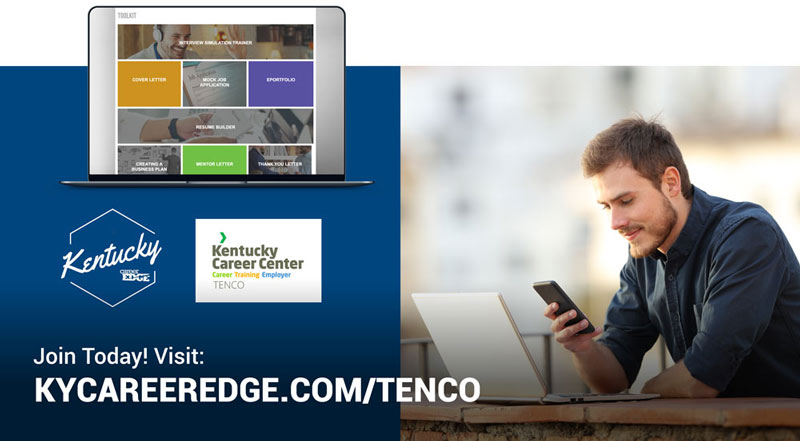 The TENCO Workforce Development Board is excited to announce access to a new virtual program built to provide job seekers the necessary tools for employment success. Career EDGE was first used by the South Central Workforce Development Board and was recently implemented statewide through the Cabinet of Education and Workforce Development.
Career EDGE consists of 18 interactive modules with built-in virtual coaching. Modules include:
Career exploration
Job preparation and work ethic tutorials
Job interview simulator so you can rehearse and get tips on answering interview questions
Resume, cover letter, thank you note
Job application builder
Essential life skills curriculum
Everything needed to support individuals in their job search or advance in employment is included in Career EDGE.
Start your employment journey today with Career EDGE by registering at kycareeredge.com/tenco. New users can register in less than one minute and have immediate access to all modules and services within the Kentucky Career EDGE platform.
Registration is easy. Access is free. Additional services with a Career Counselor are available. For more information on the Career EDGE, please contact the KY Career Center – TENCO at 606-564-6894 or kdryden@btadd.com.
Career Exploration and Job Analysis Tools
Unemployment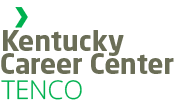 Questions About Job Services?

Please complete the form below with as many details as you'd like. We will contact you as soon as possible.