The Fleming County High School Future Business Leaders of America (FBLA) held their inaugural meeting for their Advisory Committee in Flemingsburg on Feb. 5, 2020.  In attendance was their sponsor, Charlene Hall, chapter officers, and several business/community leaders.  The TENCO Workforce Development Board was represented by Board Chairman Lori Ulrich and Career Center Counselor Dena Green.
This meeting was student-led with FBLA Chapter President Peyton Hall conducting the meeting.  Peyton also serves as 2019-20 Kentucky FBLA State Reporter.  The Fleming County High School FBLA Chapter also has Maleah Hendrix serving as Region 5 Secretary.  Their chapter's membership has grown tremendously in recent years and now has 104 members.  They have become more involved at the region, state, and national leadership conferences.
Mrs. Hall shared information about their business and marketing curriculum offerings.  Their chapter has school-based enterprises with Panther Bank, a program sponsored by Peoples Bank, and Paw-Mart, a school store that sells vinyl, embroidery, sublimation, and poster printing products.  These enterprises give students practical, hands-on experience.  She is also seeking business locations in which to place students in co-op opportunities.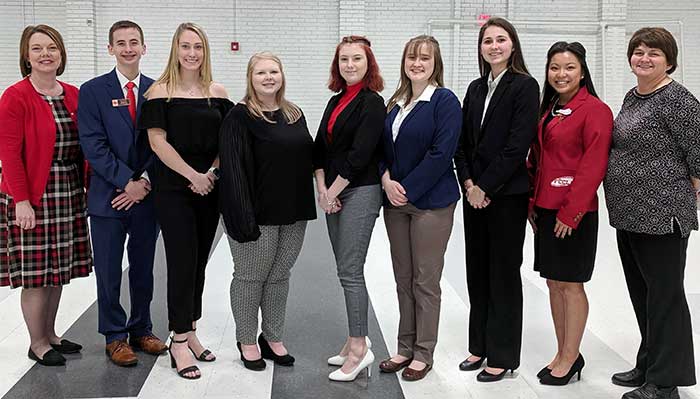 TENCO Board Chairman Lori Ulrich is seen with Fleming County FBLA officers and their instructor. From left to right: Lori Ulrich, Peyton Hall, Maleah Hendrix, Abby Pollitt, Elizabeth Cox, Jocelyn Clifton, Crecie Kelly, Sarah Davenport, and Charlene Hall.