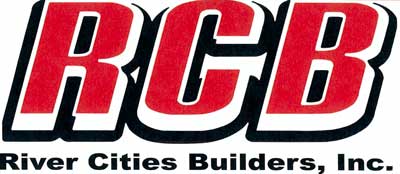 River Cities Builders, Inc. …
Established in 1986, River Cities Builders is a licensed General Contractor specializing in commercial and industrial projects for private and governmental clients and holds various trade licenses in multiple states.
River Cities Builders has a history and reputation of providing top-notch, expertise services through our experienced and dedicated work force consisting of over 150 years of accumulated combined years of service in the construction industry. Through our vast experience and knowledge in the construction industry, we can assist in the evaluation and planning of construction projects by providing a free review and construction estimate to our clients. We work with our clients to bring their construction needs within their allotted construction budgets and timeframes.
Our Services Include
Commercial and Industrial Construction
Design/Build Projects – Licensed Civil and Structural Engineers on staff for complete turnkey projects from design to occupancy.
New Build Construction and Remodeling Services for Gas Stations, Office Buildings, Retail Stores, Warehouses
Licensed Petroleum Underground Storage Tank System Installation, Removal, Remediation in Multiple States including Manufacturer Certification in materials utilized on projects.
Licensed Electrician in Multiple States
Petroleum Graphics Installation and Debranding/Rebranding Services
Excavation and Heavy Earth Moving Equipment
Certified Helical Pier Installer
Concrete – Forming to Finishing
Asphalt and Concrete Parking Lots
EMV Upgrades for Continued Compliance with Regulations
POS Systems
Gilbarco Veeder-Root Installation and Maintenance
24/7 Emergency Services
Applause Media Installations
Federal State and Compliance Upgrades
Hydro Static Testing
We provide all necessary construction, supervisory and administrative services for successful projects for all stages from project design to final project completion and client acceptance. Call us today at 606-473-4112 to discuss your construction project needs.