Workforce Innovation and Opportunity Act Eligibility
If you need training to find a job, advance your career or to prepare for a career change, Kentucky Career Center – TENCO can help you find training and educational opportunities. We also can help you get on track to earn the GED, take adult education classes or learn English as a second language.
If you qualify for Workforce Innovation and Opportunity Act programs, you may be eligible for financial help for training or tuition. Contact the career center nearest you to determine eligibility. An Individual Employment Plan is required, and you may complete the IEP prior to your appointment.
Contact a Career Counselor at our local Kentucky Career Center to see if you are eligible to receive training funds.
Ashland Career Center: 606-920-2024 / Michelle Sloas / michelle@fivco.org
Maysville Career Center: 606-564-3347 / Dena Green / dena@fivco.org
Morehead Career Center: 606-783-8525 / Janey Orcutt / janey@fivco.org
OCCUPATIONS IN DEMAND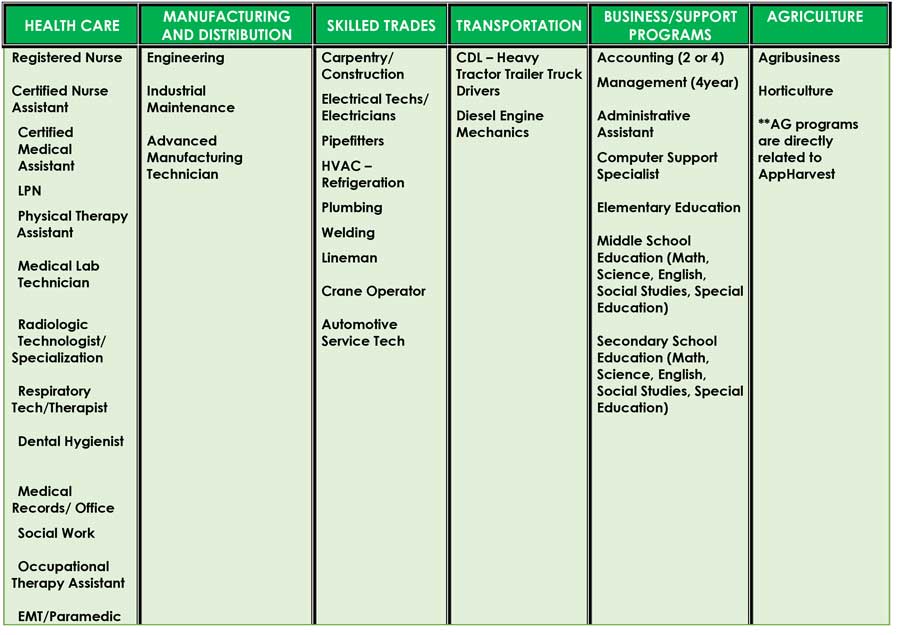 Financial Aid
Federal Pell Grants are available to eligible individuals enrolled in an undergraduate degree or certificate program and can cover up to $5,350 in education and training expenses. They are accepted at nearly all universities and community colleges and many trade and technical schools. Applying for financial aid and finding training are easy. You can find helpful information online at studentaid.gov.
OVERVIEW OF FAFSA
HOW TO COMPLETE FAFSA